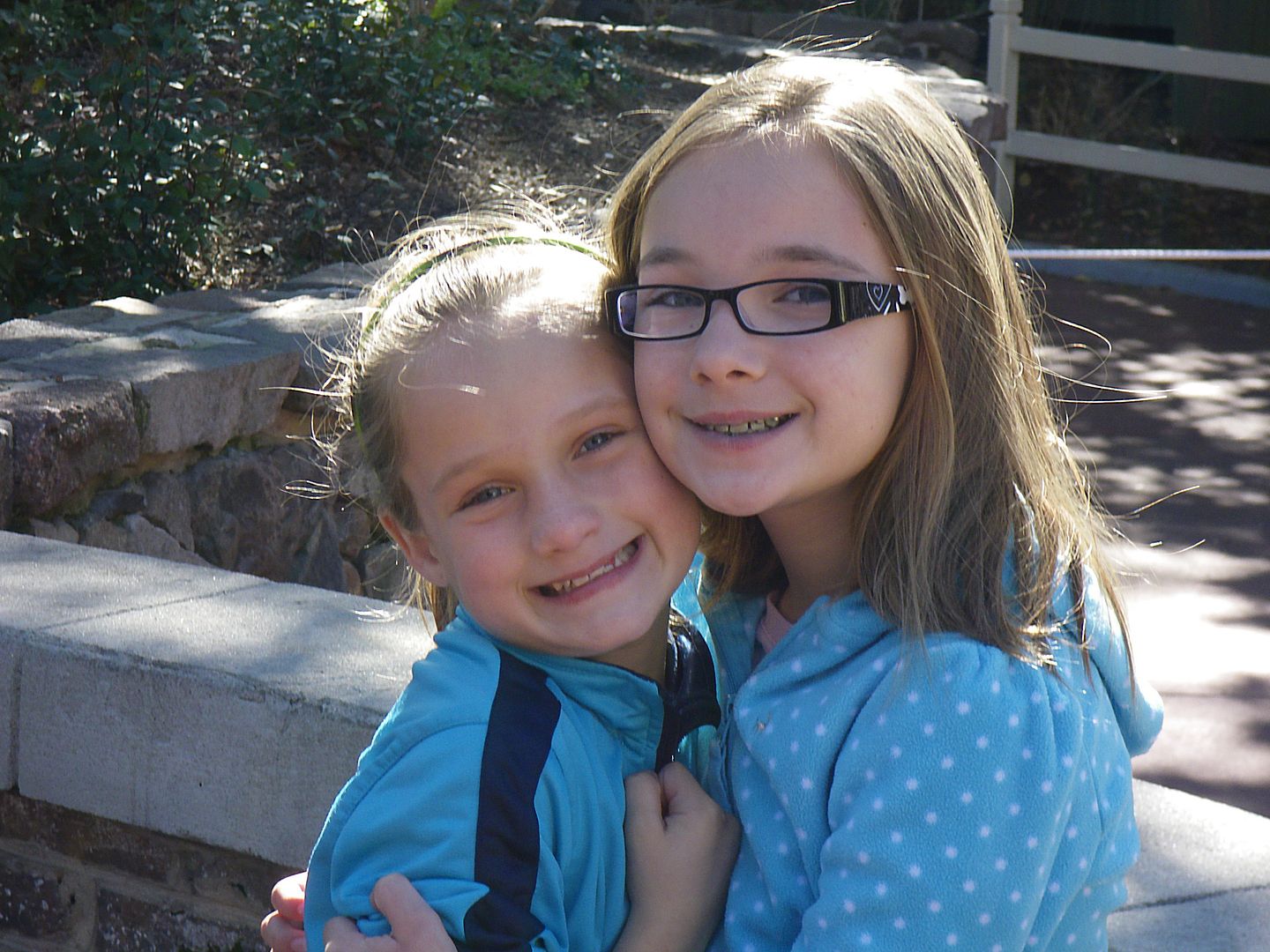 Kayla (right) with her sister, Trinity
The three girls shrieked and squealed as they chased each other across the brick courtyard.  Princess Tiana and Prince Naveen were late for their meet 'n greet in Liberty Square and the children were getting antsy.  One of the moms standing in line broke from her conversation and called out, "Kayla, sit down and check your blood sugar!"
That's a new one.  When one of mine starts revving up I say, "Take a chill pill!" or "Cool your jets!"
The oldest girl immediately stopped running and sat down.  Whoa. "Check your blood sugar" just zoomed to the top of the Mom-isms list!
Kayla reached into the blue and white sport-pack at her waist and pulled out her cell phone.  Ah, typical tween!  Always texting.  But, wait.  That was no cell phone…
She wiped a fingertip with an alcohol pad, pricked it with a tiny lancet and touched it to the device.   After pressing a few buttons, she slipped it into her bag and ran off to play.   I had just witnessed a ten year-old managing her diabetes "on the go" in the Magic Kingdom!
Like three million other Americans, Kayla has Type 1 diabetes.  It's a condition that occurs when the pancreas, an organ about the size of a hand, stops producing insulin. Insulin is a hormone that helps the body move glucose (sugar) from the bloodstream into cells throughout the body.  Without insulin the glucose stays in the blood, where it can cause serious damage to all the organs of the body.
For this reason, people with type 1 diabetes must take insulin in order to stay alive.  That means undergoing multiple injections daily, or having insulin delivered through an insulin pump, like Kayla's.   In order to know how much insulin is needed throughout the day, the amount of sugar in the blood needs to be checked frequently.  Kayla must prick her finger and test her blood six or more times a day; even when she is in Walt Disney World.
Especially when she is in Walt Disney World!
People with diabetes must carefully balance their food intake and their exercise to regulate their blood sugar levels.   This helps them avoid low blood sugar and high blood sugar reactions, which can be life threatening.   The balancing act can be especially difficult when a vacation messes with their daily routine.
My curiosity was piqued, so I introduced myself to Kayla's mother and father, who were standing behind me in the queue.  Sarah and Chris were more than happy to talk Disney and Diabetes with me.  I learned that their second daughter, Trinity, has diabetes but Leah, the youngest, does not.  Trinity uses an insulin pump like her big sister.
I was especially interested in learning more about the pump. "It's a Ping One-Touch," Chris explained. (Men! They love to talk about technology!) He introduced me to Kayla.  She graciously opened her bag and took out the remote device that helps her manage her blood sugar.  I was amazed at how small it was!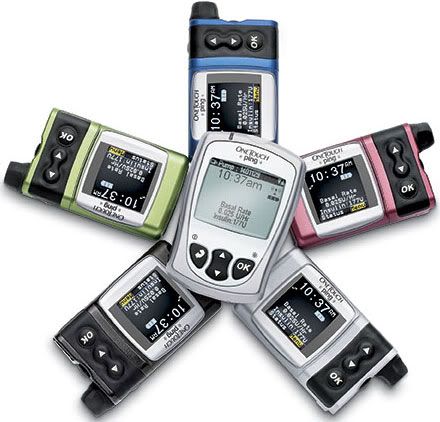 I recall working as a Visiting Nurse in the early 1980's; back then we carried bulky glucose meters that needed large "hanging drops" of blood to measure a patient's blood sugar.   Let me tell you, getting that much blood out of a child's fingertip is not fun.   I spent a lot of time teaching parents how to do it, as well as how to draw up insulin syringes and administer the injections to their children.  The injection sites need to be "rotated" around the body… the arms, the legs, the abdomen… to prevent skin damage from repeated trauma of the needles.   And then there was the issue of needle safety and disposal of the sharps.
What a difference with today's technology!
Kayla and her dad told me how the two-part system worked.  Basically, the pump acts as a pancreas, secreting small amounts of insulin into the bloodstream throughout the day.  It is connected to the body using an infusion device.  Theremote is the cell phone-like gadget Kayla carries in her bag.  It reads her blood sugar using a tiny drop of blood on a test strip, then communicates the information to the pump using wireless technology. It can also be used to count carbs in a meal or snack!  This way, the pump can continually fine-tune the amount of insulin Kayla's body needs as she goes about her day.
"That's amazing!" I said to Kayla.  "You can work this thing all by yourself?"  She grinned.  "Sure, it's easy!" she replied.  I was in awe of the technology AND the ten year-old.   With obvious pride, Sarah informed me that both Kayla and her sister, Trinity, are Youth Ambassadors for the North Florida Chapter of the JDRF (Juvenile Diabetes Research Foundation.)
You can read more about the program here:
http://www.jdrfnorthflorida.org/famnetwork_junior.php
After hearing that the family lives in Florida I asked Kayla how many times she had visited Walt Disney World.
"Oh," she said, tapping her chin with her index finger, "about eighty."
EIGHTY!  My mouth dropped open and they all laughed.  "We do come here a lot," Sarah admitted.
Eighty trips may not be an exaggeration; the family lives only an hour's drive from the World.  They take frequent day trips. "We must've spent three out of four weeks here last July."   Sometimes they stay on property… on this particular trip the family was camping at Fort Wilderness in an RV.
"Do you ever mix it up and go to Sea World or Universal?"  (I had to ask.)
Chris smiled. "We've been there, but I would rather be here because they make it so easy," he said.  "At one point Kayla developed celiac disease and required a gluten-free diet," Sarah interrupted.  "At Universal they were, like, 'what's gluten-free?' We had to explain everything!"
Chris continued, "Here at Disney, every restaurant accommodates my daughter's special diet; you don't have to explain, they just do it."
That confidence in Disney chefs is invaluable; for Kayla it could mean the difference between life and death.   She has severe allergies to peanuts and tree nuts and would have a life-threatening reaction if they were ingested accidentally.   Her mom carries an EpiPen auto-injector in case of such an emergency.
You can learn more about the EpiPen here:
http://www.epipen.com/about-epipen
"That's a lot to worry about," I said.  "Has she ever had any medical emergencies at Disney?"
"Kayla had a diabetic emergency last year while visiting Hollywood Studios," said Sarah.  "Her blood sugar dropped dangerously low.  I ran to a Cast Member and told him that my daughter needed juice right away.  He immediately stopped what he was doing, got the juice and gave it to me… no questions asked."   Thank Goodness! Kayla's Disney day could have ended in the Emergency Department had her mother not kept her under her watchful eye.
It was about this time that we were beginning to wonder if Tiana and Naveen had decided to play royal hooky that day.  (We soon learned from a passing CM that we had miscalculated the meet 'n greet time by an hour!)  The little queue reluctantly disbanded, but not before Kayla's parents agreed to let me take a picture of her.  I took out my camera and little Trinity jumped up and down with excitement.  "Can my sister be in the picture too?" Kayla asked.  Trinity looked up adoringly at her big sister. The girls wrapped their arms around each other and posed.
I got my princess meet 'n greet after all.
~ Kathy
(This article appeared originally as a part of my Faces in the Queue series at WDW Fan Zone.)