Picture a young family enjoying their first visit to one of the Disney parks.  It's a blazing-hot afternoon in June and they've been touring since the park opened. The children are starting to get fussy – it's time to head back to the resort for a nap. They whine at the mention of leaving, but settle down after the parents announce they will stop for ice cream on their way out of the park.
Sitting in her stroller, little Mary is attempting to eat her first Mickey bar all by herself.  Soon her face, hands, and bib are covered with chocolate. Onlookers smile. "Adorable!" they coo.  At the bus stop her father snaps half a dozen pictures of his messy girl. Mary begins to blink and cough. Her mother pats her gently on the back, imagining that a mouthful went down the wrong way.  She pulls out a sippy-cup filled with water. The toddler takes it, but the liquid makes her gag. "Mama," she cries in a hoarse voice, rubbing her eyes furiously. Soon her face is covered with raised red welts and her lips have swollen to twice their normal size. The coughing turns to wheezing. Her parents begin to panic as they realize their daughter is having difficulty breathing…
* * * * * * * * * * * * * * * * * * * *
Mary is having a severe allergic food reaction, one that could even be life-threatening. (See ANAPHYLAXIS.)
Imagine the stress when contemplating a trip to Walt Disney World with a person who has such an allergy. Danger lurks in every restaurant, buffet, and food cart!  Even less serious food allergies can trigger or worsen asthma, eczema, and other disorders. That's not very magical.
Never fear, a new planning resource is available to allergy families! Meet Liz and Jeff from Allergy Free Mouse!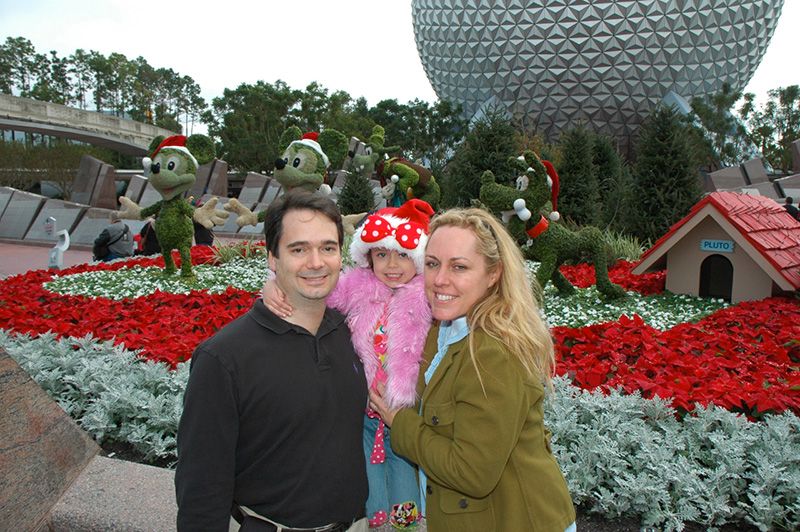 The Atlanta, GA couple first visited Walt Disney World in 2009 with their then-five-year old daughter, who has a severe (anaphylactic) dairy allergy. "During our first trip I made some notes about things to remember for the next trip and added to it after the trip," Liz explains. They had packed a lot of food for the trip, "just in case," but ended up driving home with most of it. "Once we realized how great Disney is with food allergies we knew we were going back."
Liz continued to take notes on their next visit. By the time the family had made their third trip to Walt Disney World, she realized just how many notes she had taken and how difficult it was to work all those details into planning a safe and successful trip.
"We guessed that other people probably had the same difficulty, even with the help of Disney's Special Diets Team," she explains. "That's when we decided to put together the website."
"It's her brainchild," Jeff says, "I'm just the tech guy!"
Planning is the key to any successful Disney trip and that is especially true for first-time visitors with food allergies.
"We have a whole section for planning a trip that links to other areas of the site, so that the reader can find the tips and [restaurant] reviews," Liz explains. "And we have some sections specific to the top eight food allergies as defined by FAAN (Food Allergy and Anaphylaxis Network)."
What are the top eight food allergies?
*Peanuts
*Tree nuts
*Dairy, casein & milk
*Eggs
*Wheat / gluten
*Soy
*Fish
*Shellfish
It is possible for one person/family to have multiple food allergies. "Some food allergies are really complex. Some are mild, and some are very severe, like ours," Jeff says. "We've always encouraged [readers] to share experiences; to share different perspectives [on] different food allergies."
In addition to trip- planning tips and restaurant reviews, Liz and Jeff offer tips on avoiding inadvertent allergic reactions, such as contact with furry Disney characters:
If your food sensitivity includes skin contact, be especially careful when Character Dining. The Disney characters love to hug, as they walk around and meet the diners, but they may be carrying allergens from other kids who may not wipe their mouths or hands before their time with character. Therefore, be aware of this, and wipe your hands and face after a furry hug.
According to Jeff and Liz, allergy families should prepare themselves for interacting with another important group of Cast Members – the Disney Chefs. "We always tell the chefs that they are the real reason that we're there, not for Mickey and Tinkerbell," Liz says. "They allow parents to have a true vacation thanks to their commitment and the time [they take] to make sure you have a safe meal."
Photo courtesy of Chip & Co.
"Only the chef really knows what he/she uses when preparing the food, and they will be the one preparing your allergy free meal," Liz says. "Try to be respectful of their time as they are managing a very busy kitchen…"
"…but always make sure you're confident of the responses they give you," adds Jeff.
"They will be taking time away from their other meals to prepare your meal," Liz advises. "Remember to always be polite and that you can't say 'thank you' enough! They are usually really happy to help, but thanking them really encourages them for the next person with food allergies."
The couple has plans to further enhance the site, including the addition of restaurant reviews for Disneyland and theDisney Cruise Line.  "Our website is currently available on mobile phones via the web browser," says Jeff. "We are going to make it available in a downloadable app for the iPhone, since you can't always get connected while in the parks."
As far as Liz and Jeff are concerned, their most important goal is to get the word out: guests with food allergies do have options when they visit the Disney Parks!
"Often, when we were discussing our Disney trips with other parents of kids with food allergies, we discovered that they didn't know you could get Divvies cookies and French Meadow Bakery items at Disney," says Liz. "We're really excited to have the opportunity to reach out to parents [of kids who have food allergies] so they, too, can have a real vacation." Liz enjoyed helping others so much, she decided to become a Disney Travel Agent with Pixie Vacations!
If you or someone you love has a food allergy, I recommend that you visit Allergy Free Mouse and let Liz and Jeff help you make the most of your Walt Disney World vacation!
 Thanks for reading!
~ Kathy